In recent years, E-learning or online learning has become a phrase that is mentioned a lot on social networks due to the impact of the Covid-19 pandemic. However, have we understood it as well as the advantages and disadvantages of E-learning? In this article, I will help you get more information about E-learning. Loop Khoa TriE-learning is defined as the name of an online, internet-based teaching and learning system and method. E-learning is known by the community as online education or online teaching… However, in general, E-learning is teaching and learning online through electronic devices. Watch an educational video on Youtube, read a good article on social media, or take an online quiz – all of which are E-Learning.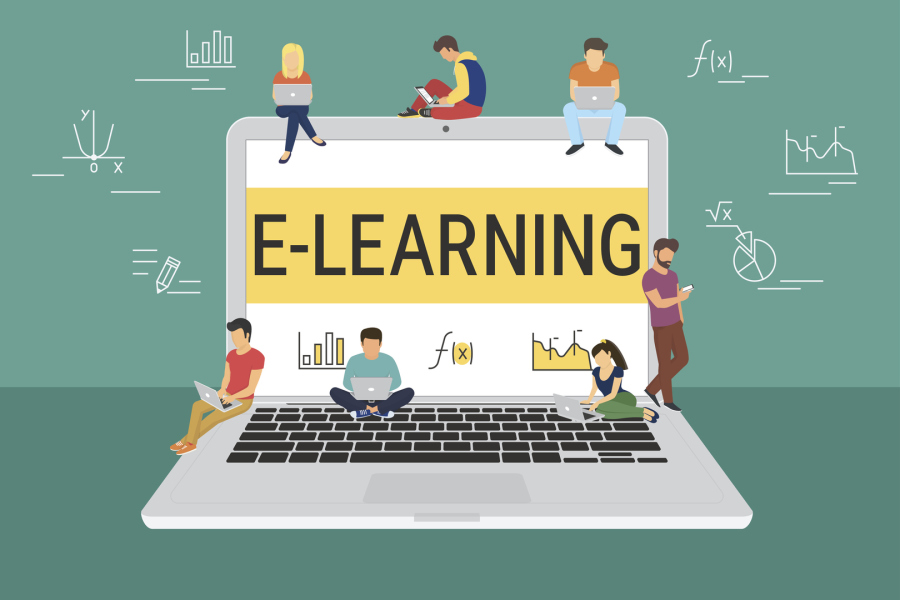 Using an E-learning education platform, we can share knowledge and information with a large number of users. Besides, online learning also helps both teachers and learners to be more active in terms of time and space... And now E-learning is applied to many web-app designs as well as typical software such as educational management software - schools, training center management software, teacher management software, etc.
Advantages
Expanding the scope of teaching:
Organizing face-to-face learning in a classroom is limited in terms of space and location. That is, class size is affected by class space and geographic distance. Meanwhile, with E-learning, learners can join classes from anywhere in the world as long as there is an internet connection there. Current online learning management systems can also accommodate thousands of students accessing the system at the same time. As a result, schools can reach a larger number of students while saving on the cost of teaching infrastructure.
Teaching focus:
Unlike traditional classrooms, where a single teacher will be responsible for teaching a large group of students from about 20 to 40 people. Online learning with e-learning often has a one-teacher-to-student ratio.
In the online training system, students are taught through a simulated curriculum. That is, if students do not understand something, they can still easily review their lesson with a simple click.
Save time and money:
Because the school is right in front of the student's computer/phone screen, both learners and teachers save a lot of time and money. At the same time, the training institution also saves investment costs for infrastructure and printing costs. E-learning also helps to reduce training time by 20-40% compared to traditional teaching methods by limiting distraction and travel time.
Besides, reducing travel and printing also has a positive impact on environmental protection.
Codify:
E-learning is easy to create and allows students to participate in learning, and easily track learning progress, and student learning outcomes. With the ability to create assessments, it's easy for managers to see which employees attended, when they completed the course, how they performed, and their level of development.
Flexibility:
Online education allows training anytime, anywhere, imparting knowledge on demand, and information responding quickly. Students can access courses anywhere such as the office, at home, at public Internet spots, 24 hours a day, 7 days a week.
Synchronism:
The curriculum and materials of the online courses are highly synchronous because most of the curriculum and materials that are prepared and included in the curriculum are reviewed and posted online from the beginning. Therefore, synchronization is guaranteed.
Self-direction:
Because it is an online course in many services, learners can orient themselves, by choosing the most suitable course for their level, interests, and goals.
Self-regulating:
Learners can adjust the course rhythm for themselves, that is, learners can learn slowly or quickly due to their time arrangement or their ability to absorb knowledge.
Interactions and collaborations:
In online learning, learners can interact and interact with many people at the same time. They can also collaborate with friends in an online learning group to discuss and do homework. Nowadays, interaction and cooperation on the Internet are common through forums, blogs, and Facebook... and it is possible to take advantage of the Internet to "work while learning while playing".
Effective:
Online learning helps learners not only save costs but also meet their needs.
Disadvantages:
- Issues of emotions and space make an impression on learners
- Direct interaction with users is limited
- Restrict some users from using smartphones, computers,...
Tags:
---
Educate your customers with Loop Platform
Build online courses, host webinars, and offer certificates. All from one place.
It's easy to use, packed with features, and comes at a price that's actually fair.
Create my free account
---